Governing Board outlines expectations and limitations on the role of Governing Board Advisory Committee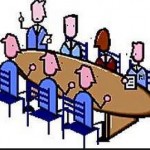 The Yavapai Community College Governing Board has outlined the role and limitations on the Governing Board Advisory Committee. The Board views are based on  Board Policy guidelines contained in section 3.6 of its policy manual.
The following statements are the expressed views of the Governing Board. With the exception of the requirement of the open meeting law, which was announced at the October 14 meeting, the remaining seven provisions reflect the expectations and restrictions on the Governing Board Advisory Committee.   
1. The Committee is subject to the Open Meeting law.
2. The Committee exists to assist the Board in the fulfillment of its duties and not to supplant the Board's role.
3. The Committee will help the Board do its job, not to help or advise the staff.
4. The Committee should ordinarily assist the Board by preparing policy alternatives and implications for Board deliberation.
5. The Committee "shall normally not have direct dealings with current staff operations."
6. The Committee "shall not speak or act for the Board except when formally given such authority for specific and time-limited purposes."
7. Expectations and authority of the Committee "shall be carefully stated in order not to conflict with authority delegated to the President" of the Community College.
8. With the new Verde Valley advisory group being formed, the Board will ensure that its structure fits within current Governing Board policy.
These expectations and limitations can be reviewed by a reader by going to the October agenda where they are found in the minutes to the September 2014 Board meeting. Click here and a link will take you to the October agenda where the minutes can be found.