New Yavapai-Apache Transit system adds Verde Valley campus in Clarkdale to route
The new Yavapai-Apache Transit system has added the Verde campus in Clarkdale as a stop on its route.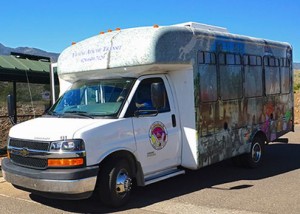 The northbound route, as reported by the College,  starts on the reservation at the YAN Medical Clinic and ends at the tribal community in Clarkdale. The southbound shuttle back to Camp Verde follows the same route in reverse. The YAT links into the Cottonwood Area Transit (CAT) system and Verde Lynx for those going on to the Sedona area. In Camp Verde, it links to Beaver Creek's volunteer bus program. The system operates Monday through Friday, but not on tribal holidays.
For more information, please contact Dianna Bonnaha, Yavapai-Apache transit manager, at (928) 649-7129.  The full story of the addition of the bus system to the Verde campus can be found by clicking here.