No similar Yavapai College facility for students attending classes on the Verde Campus or at Sedona Center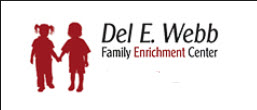 The Yavapai College Family Enrichment Center celebrated its 10-year anniversary Wednesday, October 11, 2017, at an open house in the Del E. Webb FEC building on the Prescott Campus. The Center also celebrated the renewal of its five-star rating by Quality First, a voluntary Quality Rating and Improvement System in Arizona. 
The Enrichment Center is a year-round program. It operates  Mondays through Fridays from 7:45 – 5:15 serving children 3 months to five years. Priority is given first to qualifying Yavapai Community College students and then to Community College employees. Any remaining spaces are offered to community children. It offers alternative full and part-time schedules.
The Center provides a setting for Yavapai College early childhood education students to develop the skills and competencies necessary for careers with young children. It acts as a resource and a model for the Prescott area.
There is no similar program on the Verde Campus or at the Sedona Center or anywhere else in the County.