Forty students hanging in the balance as VA notifies College its enrollment standards don't meet minimum standards
The Prescott Daily Courier reported today that the Veterans Administration has cracked down on Yavapai College's fixed-wing and helicopter program. In a letter toPresident Penelope Wills, it advised her that because of enrollment problems, it had decided to stop providing support for new enrollments in the College's fixed-wing and helicopter training programs. This has left 40 students, set to start in May, waiting to see what will happen.
According to the story written by Scott Orr,  the VA notified the Community College in a letter sent last week that any class that enrolls veterans with the intent to have the government pay their tuition must include no more than 85 percent veterans.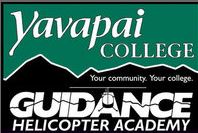 The Veterans Administration claims  that YC doesn't meet that standard. It noted that all of the 90 students in the school's helicopter program, and 48 of the 51 in its fixed-wing unit, are currently veterans.
President Wills disputes how the VA is calculating the number of students in the program.  She has asked for a response from the VA to her objections by April 8 so that 40 students scheduled to being training in May will know one way or the other whether they can enroll.
It is interesting that a lawsuit against Yavapai College is pending and the claim in that action seems quite similar to this ruling by the VA.  (See Blog Index, lawsuits.)  
Click here to read the complete story in the Prescott Daily Courier.