Wills spends only a handful of working days in Prescott office from March 21 to April 27
President Penelope Wills, who is paid a quarter million a year by County taxpayers, has been out of her office in Prescott for two trips  between March 21, 2017 and April 27, 2017. No one will confirm her whereabouts during the first three weeks of her absence, that is the period March 21 to April 11.
Although the staff continues to keep the taxpayers in the dark about her absence from March 21, 2017 to April 11, it is beginning to appear but still has not been confirmed that she attended a Conference in Auckland, New Zealand from April 2-7.  If she attended this conference, it is not clear how she spent the other weeks out of office in March and early April.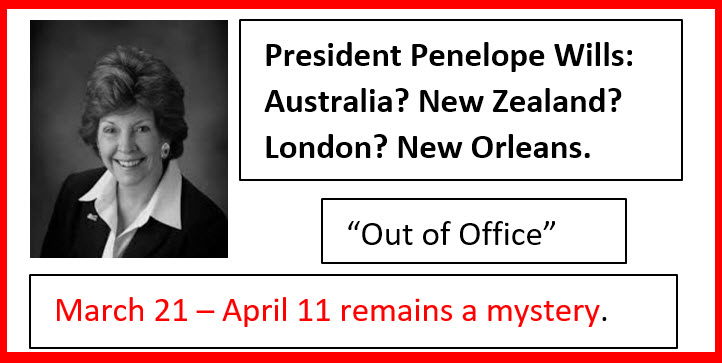 Shortly after her return from the March 21 – April 11 trip, she again packed her bags and flew off for the AACC Convention in New Orleans, Louisiana, which was held April 22-25, 2017.