Archeology Center Executive Director relates woes of dealing with Yavapai Community College
Ken Zall, Executive Director of Verde Valley Archeology Center, rolled out a long list of bad experiences his organization has suffered at the hands of Yavapai Community College at the District Governing Board meeting March 3. He charged the College has consistently showed a lack of interest and lack of cooperation in working with his organization. In frustration, the group turned to Northern Arizona University and the University of Arizona.
The Center, which has received numerous awards for its outstanding work, has 440 members from the Verde Valley. It recently received over $2 million dollars in a grant to build a new facility in Camp Verde.
He said that when the Center was created it had a Yavapai Community College representative. However, when that person left the College, the Center asked for a replacement. Zall said that it has been over two years since the replacement request was made and the Center is "still waiting" for the replacement to show up.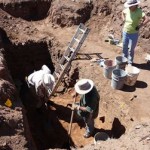 When the Film School was closed down, the Center contacted the Community College explaining it could create a school of archeology and geology. The Center met with College officials in Prescott who told them the proposal had a lot of possibilities. Then, two days later they saw a press release indicating the College was selling the Sedona Center. "The lack of candor at the [Prescott] meeting," said Mr. Zall, "has left a very sour taste in our mouth."
He also said that when the Center received notice it would receive $2.1 million dollars for a new Camp Verde facility it contacted the College inquiring whether it would like to participate. In response, the College named one representative who attended one meeting and did not follow up thereafter. Nothing more has been heard.
The Center also contacted the College suggesting there was an opportunity to create a certificate in archeology based on the successful model at Pima Community College. He said there were a couple meetings and the Center was "abruptly told" that the College saw no student base for this program. The Center adamantly disagreed with this assessment. However, the idea of a Community College certificate program for architecture and geology in the Verde Valley has apparently vanished.
Lacking cooperation from the local Community College run by Prescott, the Center has developed a relationship with NAU and has four graduate students working with it on projects. Additional students from NAU and the University of Arizona will be working with the Center this summer.
Despite the lack of cooperation from the College, the Director said door is still open for the Center to work with the College. You may view Mr. Zall's presentation to the Governing Board by clicking here.