Booklet examines the reasons Sedona and Verde Valley residents were stunned when the Community College announced the closing of the Sedona Film School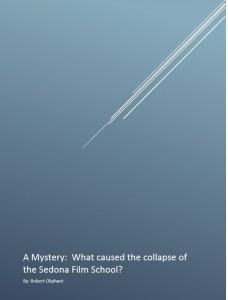 This Blog is committed to bringing to its readers the facts behind decisions made by the Yavapai Community College administrators that affect the residents of Sedona and the Verde Valley.  One of the most bewildering decisions was the complete turn-about of the Community College in handling the Sedona Film school.
A 23 page booklet, written by the Blog editor,  uses media reports and other sources of information to follow the College's actions relative to the Film School over a two-year period prior to closing the program.  It also asks the College to provide dollar and cents support for its claim it was subsidizing the Film School to the tune of $300,000 annually. How do you think the College  responded to that question?   
By clicking here, you will be taken to the booklet.  Enjoy.  MYSTERY OF WHY SEDONA FILM SCHOOL CLOSED.