Theodore Roosevelt to be performed October 17 at 7 p.m. on Verde campus
Yavapai Community College announced on Wednesday that it will have a special performance of "Theodore Roosevelt" at the Charles Mavery Pavilion on the Verde campus in Clarkdale at 7 p.m. on October 17.   Tickets for the performance Friday night are $10.  Saturday night's show at the Performance Center  on the Prescott campus will cost you $26 to $36.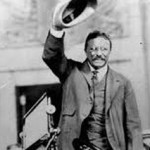 The Community College says in its press release that "TR has been energetically brought back to life by Derek Evans in performances from the White House Visitor Center to grade school classrooms, museums and theaters across the United States. . . . [You will]  be transported to the late 1800's and early 1900's. Learn about Teddy Roosevelt's early life; military career; organization of the Rough Riders; his friendship with former Prescott Mayor, Buckey O'Neill; and his Presidency as steward of the people."
To purchase tickets, click here and you will be taken to the YCC site.  Or, you may call 928-776-2000.