Dale Fitzner and Herald Harrington recognized at regular monthly meeting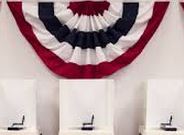 Dale Fitzner and Herald Harrington, both of whom were soundly voted out of office by County residents in November, were honored by the College Administration and three remaining Board members at the Tuesday, December 9 regular Board meeting on the Prescott Campus.
Harrington and Fitzner will have trees planted in their names on the grounds of the Prescott Valley Library (for Fitzner) and the Yavapai Community College Verde Valley Campus (for Harrington). Professor Vikki Bentz, president of the Yavapai Community College faculty senate, presented certificates of appreciation on behalf of the faculty to Fitzner and Harrington.