Wills' threatens College could raise property taxes 10% but will only ask for 2 % at Camp Verde Council session
The Community College political campaign train to gain support for a two percent property tax increase is chugging right along.  During each stop President Penelope Wills' or one of her executives tells anxious listeners that they could raise County property taxes to support the College by 10%.  However, out of the goodness of their heart, the raise will only be 2%.  This is a tried and true political ploy. 
The College does not tell listeners that the property tax increase is needed to pay for the $111 million dollar construction campaign for the Prescott side of the County. Or, that it is bankrolling a new unneeded $45 million dollar campus in Prescott Valley.  Or, that it used $1.3 of your tax money to build a tennis complex for the City of Prescott–the College does not have a tennis team. 
It also hides from listeners the fact that it already has $67 million dollars in existing revenue to finance these projects, or so it claimed to the Verde Independent on February 8, 2015, page 3A.  
The College says nothing about about the fact, as the chart inserted below shows, that since 2007 there has been a drop of almost 5,000 students.  Nor that the revenue cut by the State in 2012 has been more than made up by tax and tuition increases.  In fact, the amount of revenue in the hands of the current administration is more than $5 million dollars above the amount it had in 2012.
Take a look at the following chart, if you doubt the above data.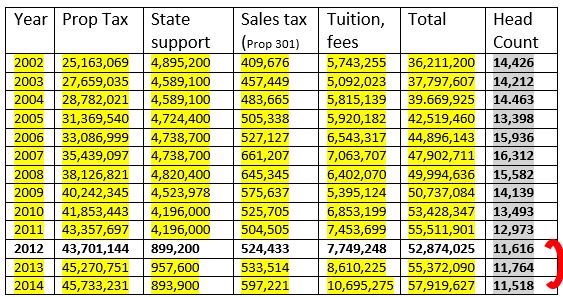 Your property taxes will go up on Tuesday, May 19, 2015, 1:00 p.m. after a short public meeting on the Verde Valley Campus – Building M, Room 137, 601 Black Hills Drive, Clarkdale, AZ.