Yavapai Community College partners with Mountain Institute JTED
In a news release to the Prescott Daily Courier of September 8, it was announced by the Mountain Institute JTED that it had formed a  partnership with Yavapai College that will allow its students to take part in the Aviation Technologies program taught at CTEC for the 2014-15 school year.  
No similar program is available to JTED students in high school on the East side of Yavapai County.

Aviation Technologies is a two-year program. Year one is devoted to fixed-winged flight, with students completing simulation labs in take-off, landing, and maneuvering an airplane in real-world situations. This past summer, Yavapai College completed its new helicopter simulator lab, and as a result MIJTED's year-two aviation students are focusing on helicopters and utilizing the new facility, which features simulators that react as if the students are in flight, including realistic sound, motion and vibration.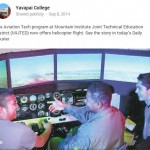 Students also have the opportunity to take classes in air-traffic control. Though they are in different rooms, students in the air-traffic control lab can send voice commands to students in the fixed-wing or helicopter simulators. This technology enables them to realistically direct aircraft to take-off, land, or go into a holding pattern, and enables the students in the flight simulators to become experienced in processing air-traffic control commands.
To read the complete news release that appeared in the Prescott Daily Courier please click here.